England manager Gareth Southgate has confirmed that captain Harry Kane will be available for Friday's World Cup clash with the USA.
England's captain suffered a blow to his right ankle in the second half of Monday's 6-2 win over Iran and continued playing for 25 minutes before being substituted after 76 minutes and subjected to an inquest to determine the severity of the injury.
Sky sports news have been told Southgate is expected to nominate an unchanged starting line-up from their 6-2 win over Iran for tomorrow's Group B World Cup match against the USA.
In his press conference ahead of the clash against the USA, Southgate said: "Harry is good. It would be a brave decision to remove him from the starting line-up!"
The update followed Jordan Pickford's admission that Kane had been training with the rest of the squad on Wednesday. I think he's good, maybe a bit sore, but he's on the pitch with us today. He's fine, yes," said the goalkeeper.
Maguire starts against the USA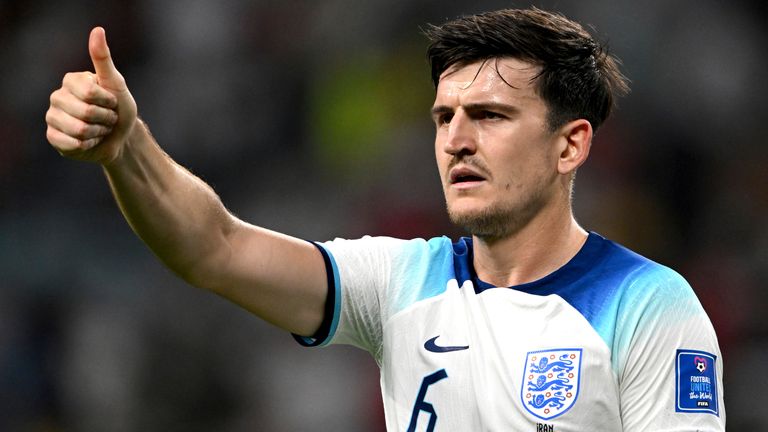 Harry Maguire starts tomorrow for England against the USA and is expected to win his 50th cap.
Maguire, a controversial starting XI in England's opening win over Iran, produced one of his surest performances of the season. He hit the bar early with a header and then earned an assist for Bukayo Saka's first goal.
There were concerns about Maguire's fitness for the second game of Group B after he was sidelined by illness against Iran. But he has since recovered and fully participated in English training.
"I was disappointed when I left [against Iran]' Maguire said. "I felt uncomfortable in the second half and we took all reasonable measures and I've been training for two days and I feel good. i'm ready for tomorrow
"My 50th cap will be a really proud moment for myself. I have incredible memories. Every time I put the shirt on it's such a proud moment.
"To score in the quarter-finals of the World Cup and Euros, to reach a semi-final, to reach a final: there are many memories.
"There are still many players who were there when I debuted and are still there now. I played a lot of games with John Stones, he was in pretty much every game I was in."
SOUTHGATE: We won't appreciate Stones and Maguire until they're gone
Southgate has jumped to the defense of Maguire, who has been criticized for his form after losing his place in Manchester United's starting line-up.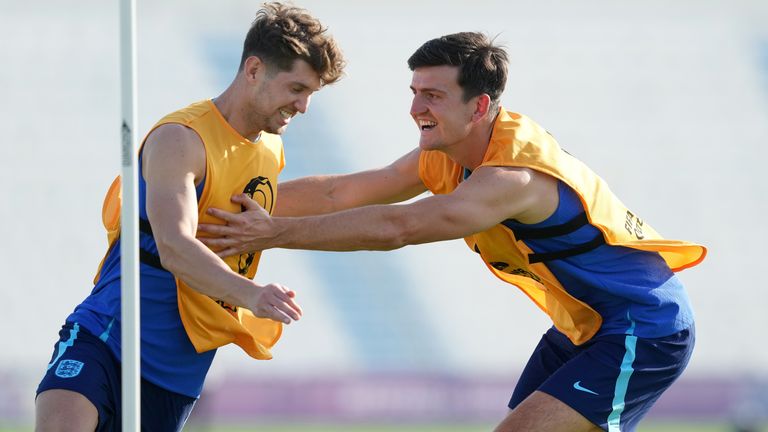 The England manager paid particular tribute to Maguire's centre-back partnership with Stones, with the defensive duo acting as pillars of his team throughout his tenure.
"We wanted to build our team to be able to play from behind," said Southgate. "Harry and John Stones have provided this incredible platform to build on.
"We'll only appreciate that stability in possession when they're not there. And they're good defenders. They know each other's games and they fight for each other. They pride themselves on not conceding a goal, but they need to revive themselves !"
"Harry's 50th cap is well deserved. He's been a big part of two big tournament appearances and we hope it's his third."
Speaking about that criticism, Maguire added: "As a footballer, no one likes to be criticized but it's part of the game. Cristiano [Ronaldo] is the best player who has ever kicked a soccer ball and he is criticized day after day.
"He's being criticized every day so it's going to happen to all of us. We have to go to training and do our best and that's all you can do."
Earlier this week goalkeeper Pickford gave Maguire his confidence. "He needs to be respected a lot more, but every footballer is criticized. I think that's a bit unfair. His performances on the pitch showed how good he is."
"He was incredible. He was really good the other night, got an assist and maybe could have given us a penalty with that VAR decision that went against us.
"I have a great relationship with him. Most of my camps had Harry before me and he is in a very good place now."
Souness: Kane had to be saved from himself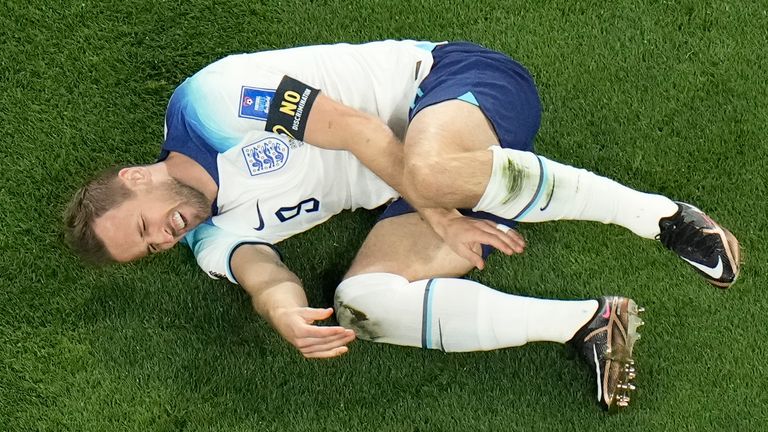 Sky Sports' Graeme Souness speaks on ITV:
"I watch England with the head of a manager and when I see the challenge I think, 'This boy has a history with his ankles'.
"He stayed down a bit, he wasn't right, he went on it cautiously. I thought 'he has to come down now'. That happened in the 48th minute and he walked away in the 75th minute. He had 27 minutes to walk on that ankle.
"Some players need saving from themselves. He's a goalscorer. He thinks, 'There are goals in this game against Iran and I'm going to keep at it'. I think that's a mistake."
"I think the manager should have fired him straight away, you're three-zero up at that point too. You don't have to risk Harry anymore.
"I wrote about this competition before I came here and I think England could do very, very well as long as Harry scores a lot of goals. I'm not sure when they play against real teams who else will win goals.
"I see it as something that was avoidable and I think that's up to the coach because a player who wants to be the top scorer in this competition will act selfishly in that situation. He needs to be saved from himself." there.
"He should have started straight away. It should have been on ice and in an elevated position straight away."